The Need for Top Cybersecurity is Now, How Apiagne Can Help !
Could your business survive an economic setback and the resulting bad reputation? According to a recent CSO United States report, Target suffered the consequences of losing over $200 million from its most recent data breach disturbance, allowing 40 million customers' debit and credit card information to be abstracted from their POS systems. As big data is only increasing, you MUST have the right cybersecurity system so that hackers will know not to interfere with your business. However, choosing the proper software security is just as important as who is implementing it, and THIS is how Apiagne can help. We have gained a rich knowledge in the cybersecurity industry. With our expertise and experience, we install on site superior cybersecurity systems for our clients working in the government, energy, and health care industries, as well as Fortune 500 clients in banking.
Today, we recommend Splunk Enterprise Security, as it offers all the features one should consider before investing in a cybersecurity program, and it ranks highest amongst its competitors in visibility and mitigation.  Splunk Enterprise Security is a machine data tool that has empowered business intelligence by allowing the free implementation of any form of big data, whether it be structured, unstructured, or semi-structured, to then be quickly analyzed to compute detailed results. Wendi O'Neill reports on Splunk Blogs that this newly transparent technological intelligence is "…schema-on-the-fly (aka ask any question any time)" and can solve the questions all businesses want to know, which is, "How can I take control over my data?" The highly advanced algorithmic search engine allows you to create any schema, anytime, anywhere, requesting where your data is within your network. This type of access can also be programmed to provide real-time alerts for any suspicious behavior within your systems; this has contributed to Splunk Enterprise Security's (in orange) ranking highest among top competitors in visibility.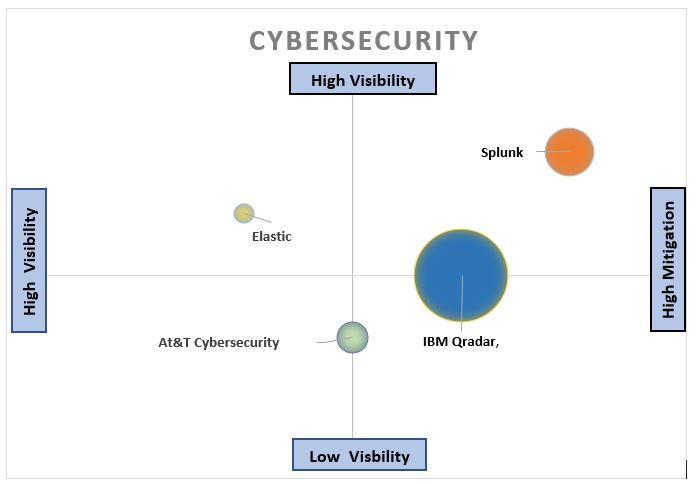 However, embedded functions and a transparent, integrated system are not the only things Splunk has to offer. Splunk's real-time alerts are the reason how and why they rank higher than their competitors in mitigation. O'Neill states that this real-time alert function travels over multiple departments, creating real-time awareness that will turn into real-time solutions. This alert system will notify you (whether you are in the office or on the golf course) of any unusual and unwanted behavior in your systems. This provides quick solutions to control your data at all times.
So, if you are burdened with a poor cybersecurity system (and want to avoid lawsuits and debt), we recommend installing Splunk Enterprise Security, and we can simplify this process for you. Not only do we understand cybersecurity, but our knowledge and expertise include I.T. operations, organizational management, A.I. automation, and more. Visit our (certain website page) to learn more about us and how we can revolutionize your systems into one. The era of suffering from the silo effect is over with us!
We would love to hear from you to learn more about any issues you have within your networks. (Wouldn't it be nice if all your systems could communicate with each other as much as your mother-in-law communicates with you?)
Provide your contact information to request a free Splunk Enterprise Security demo. ==> Request a DEMO
By Cristina McCutcheon, https://www.linkedin.com/in/cristinamccutcheon/
Gartner. (n.d.). Top Splunk competitors and alternatives – Gartner 2020 – Security information and event management. https://www.gartner.com/reviews/market/security-information-event-management/vendor/splunk/alternatives
Swinhoe, D. (n.d.). The 15 biggest data breaches of the 21st century. CSO Online. https://www.csoonline.com/article/2130877/the-biggest-data-breaches-of-the-21st-century.html
Grill your data… no BBQ required. (n.d.). Splunk-Blogs. https://www.splunk.com/en_us/blog/partners/grill-your-data-no-bbq-required.html
Splunk Inc. Announces fiscal fourth quarter and full year 2019 financial results. (n.d.). Splunk. https://www.splunk.com/en_us/newsroom/press-releases/2019/splunk-inc-announces-fiscal-fourth-quarter-and-full-year-2019-financial-results.html
IBM reports 2019 fourth-quarter and full-year results. (2020, January 21). https://www.businesswire.com/news/home/20200121006061/en/IBM-Reports-2019-Fourth-Quarter-Full-Year-Results
Elastic N.V. Reports strong fourth quarter and fiscal 2019 financial results. (n.d.). Open Source Search: The Creators of Elasticsearch, ELK Stack & Kibana
Elastic. https://www.elastic.co/about/press/elastic-n-v-reports-strong-fourth-quarter-and-fiscal-2019-financial-results
Just a moment… (n.d.). Just a moment… https://www.owler.com/company/logrhythm
AT&tT Release Fourth-Quarter and Full-Year 2019 Earnings. (2020, January 29). https://about.att.com/story/2020/2019_earnings.html#:~:text=For%20full%2Dyear%202019%20when,%24181.2%20billion%20versus%20%24170.8%20billion.